Experience Guided Fishing on Rainy Lake
For the Ultimate Catch
The Rainy Lake Houseboats Fishing Guide staff is headed by 2018 Minnesota Fishing Hall of Fame inductee Billy Dougherty. Our guide staff is made up of Rainy Lake's best guides. Billy has mentored all of our guides sharing his fifty-two years of experience with them.
Whether you are looking for walleye, smallmouth, crappie or northern pike, they are able to put you on fish and show what structure to look for when venturing out on your own. All of our Rainy Lake fishing guides are properly insured and have the permits necessary to work in Voyageurs National Park and Canada. They are friendly, knowledgeable and, most of all, love Rainy Lake and sharing this world-class fishery with you.
We suggest booking your fishing guide when you book your Rainy Lake Houseboat vacation. Typically, we tell our guests to fish with a guide the second day. This gives you the opportunity to use the knowledge you gained from him regarding bait, structure, and technique for the rest of your trip. When you check-in, the office will have suggestions on where you should moor your houseboat based on the current fishing report created by Billy and his fellow guides.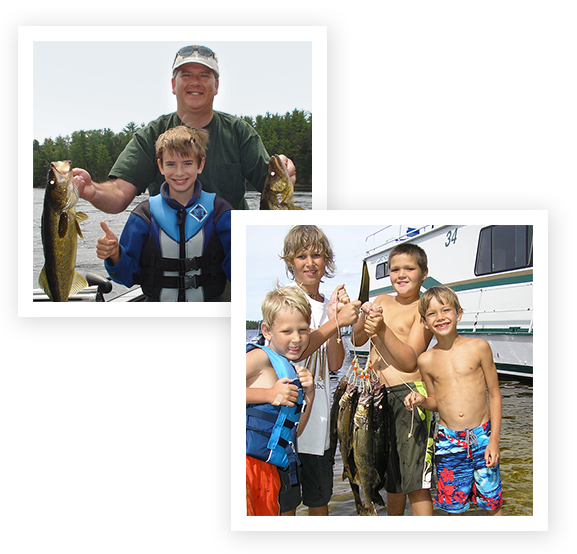 Fishing Guide Rates
Full Day
Meet at your houseboat and fish from 8:00am – 4:00pm.
1-2 people: $400.00/day
3 people: $450/day
4 people: $500/day
Half Day
Meet at your houseboat and fish from 8:00am – noon.
1-2 people: $300.00/half day
3 people: $350/half day
4 people: $400/half day
Spot Guides: $15.00/hour
Assists with chart reading and navigation while you drive the houseboat. Great for first-time houseboaters.
Pricing includes filleting the fish when you return. Pricing does not include fuel or bate.
*Children under 16: no extra charge for parties of 3 or 4 guests.
You should pack appropriate clothing, as well as your own lunch and beverages. If you would like your fishing guide to prepare our famous Rainy Lake shore lunch, let us know at the time you book. Keep in mind there is an extra charge to cover the food.
Meet The Guides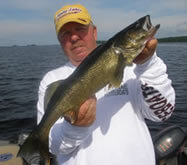 Billy Dougherty
Billy was inducted to the Minnesota Fishing Hall of Fame as a Legendary angler on March 23, 2018. He began his career at the famous Kettle Falls Hotel in 1965, learning under his uncle Mike Williams. He guided full time through 1975, then weekends and vacations through the fall of 1984. Billy went to work full time at Rainy Lake Houseboats joining guide Bob Jornlin in April of 1985 and has overseen our guide service ever since. He is an expert walleye, smallmouth bass, northern pike, crappie and musky fisherman. Bill has mentored and trained twenty-five guides on Rainy Lake over the last 52 years.
He has appeared numerous times on InFisherman TV, Babe Winkleman's Good Fishing, Lindner's Angling Edge, North American Fisherman, Butch Furtman's Sportsman's Journal, Midwest Outdoors, Backroads with Ron and Raven, and In Depth Outdoors.
Billy loves guiding more than the day he began. His love of Rainy Lake is second to none.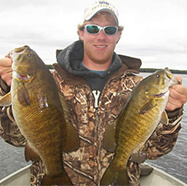 Jon Balaski
Jon has been guiding at Rainy Lake Houseboats for the past ten years. He is an adept fisherman, able to target all of Rainy Lake's species of fish. Jon has a true love for the outdoors. In the winter, you can find Jon in the woods working for a local logging company or on the ice fishing!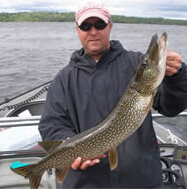 Kevin Erickson
Kevin started guiding at Rainy Lake Houseboats in 2004. When he isn't guiding, Kevin is an elementary school teacher and girls hockey coach at the International Falls schools. His main quarry is walleyes, northern pike and smallmouth bass. Soon Kevin will have his own guide staff at Rainy Lake Houseboats made up entirely of his family members, as he and his wife Jen have six children – four boys and two girls.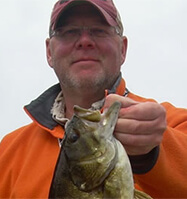 Tony Snyder
Tony started fishing the lakes of Voyageurs National Park in 1978. His family bought a resort on Kabetogama in 1984. In 1986, he started guiding part-time and spent almost all of his free time on the lakes. Tony served the citizens of MN as a Minnesota State Trooper for 24 years. He was on the SWAT team for 13 years and a K9 handler and trainer for 10 years. He retired the spring of 2013 to guide full time. When he's not on the lake, Tony spends time with his wife and four boys.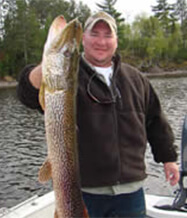 Ryan Schmidt
Ryan has been guiding at Rainy Lake Houseboats for the past thirteen years. Ryan went to law enforcement school, but could never let Rainy Lake go. He is a quiet, unassuming person, but a deadly force on the water. Ryan is an accomplished multi-species angler specializing in all Rainy Lake has to offer: walleye, musky, crappie, smallmouth bass and northern pike.
Jim Knapp
Jim Knapp spent his summers growing up on Rainy Lake, a few miles from the Rainy Lake Houseboat base. He graduated from International Falls High School and went on to college where he played hockey for the University of MN-Duluth Bulldogs. Jim has been a faculty member at UMD, in the Department of Applied Human Science for the past 33 years. Nineteen of those years he served as assistant and associate head hockey coach for the UMD Men's Hockey program. And yes, he does teach the fishing skills class for the Outdoor Education program at UMD which helps feed his passion for fishing and being in the outdoors. He would love to share his passion and love for fishing with anyone interested in catching fish on beautiful Rainy Lake!