Multi-Day Stand Up Paddle Boarding Trips at Minnesota's Rainy Lake
In recent years, no water sport has gained popularity as quickly as stand up paddle boarding (SUP). Part exercise, part exploration, paddle boarding has changed the way people traverse the surface of Rainy Lake.
Here at Rainy Lake, we've found that a houseboat provides the perfect launching point for all sorts of Minnesotan paddle board activities.
Starting from a houseboat, it's easy to get a closer look at the sights and sounds of Voyageurs National Park with a paddle board. Gliding across the waters of Voyageurs National Park is an experience that's difficult to replicate anywhere else. You're sure to feel awestruck by the area's unique natural beauty and history.
Get an up-close and personal lesson in geology when you paddle past rocks that are more than 3 billion years old. Rainy Lake is a remnant of Lake Agassiz, an ancient lake that formed as glaciers retreated north during the last ice age, 50,000 years ago. Because of the lake's icy history, ancient rocky outcroppings are still on display today.
Paddle boarding Minnesota's Voyageurs National Park also allows for an immersive history lesson. In the 1800's Rainy Lake served as the Voyageurs' Highway, connecting outposts to the isolated interior. As you paddle through these lakes, you'll be able to picture French tradesmen, their canoes loaded with trading goods, paddling through to meet with the Ojibwe.
Historic minded folks will also love exploring the Rainy Lake City ghosttown and the mine of Little American Island. In the mid-1800's Little American Island was the site of a gold mine and Rainy Lake City, on shore, was where the miners lived. Paddle boarders can make a day of it and visit both sites.
A small dock welcomes visitors to the ghosttown where an old street and the feeling of stepping into the past are the only pieces of the original town that remain. Step back onto your paddleboard, and head over to Little American Island to see the remnants of the mine that are visible from the water. Land at the island and you can explore and learn all about Minnesota's mini-gold rush.
Stand up paddle boarding on Minnesota's lakes can be active, adventurous and relaxing. Some people use their paddle boards to quickly cut through the water while others slowly drift from one location to another. Rainy Lake provides an exceptional backdrop for paddle boarding at every pace.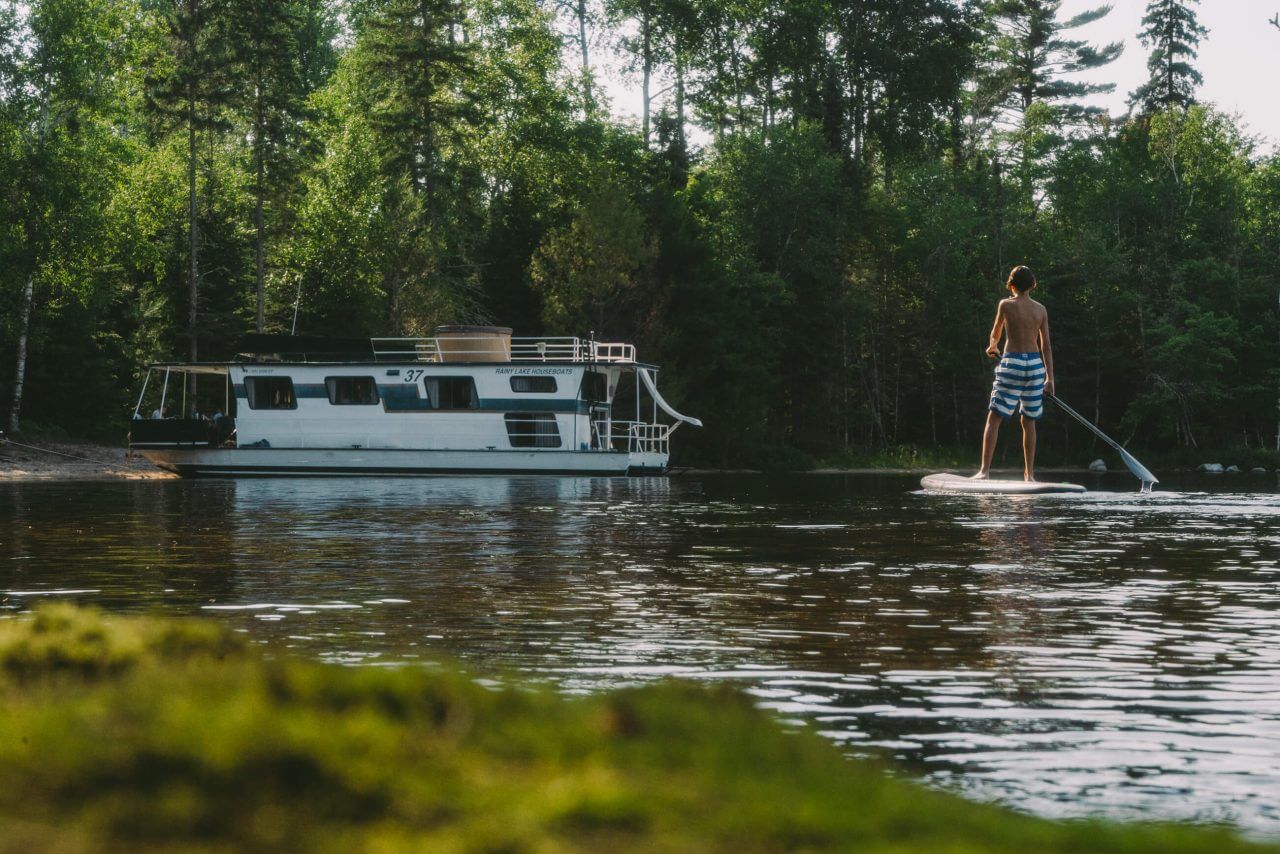 What Can You Do On a Stand-Up Paddle Board?
The answers to that question are almost endless and vary on your skill and energy level. We've even known people to take a cat nap on their board. Just be sure to always wear a lifejacket! Here are some of the most popular paddle boarding activities in Minnesota's. Voyageurs National Park:
Touring
On Rainy Lake, there is always something around the bend that's worth discovering, making it one of the premiere spots for Minnesota paddleboarding. Many visitors use touring paddle boards for adventurous sightseeing. Touring paddle boards are built for speed, letting paddlers explore more in less time.
Our guests have enjoyed weaving between islands and navigating the shoreline as the slow, silent drift of the paddleboard offers incredible glimpses of wildlife that you're less likely to catch from a motorboat.
Fishing
Anglers are increasingly using paddleboards to quietly approach fishing hot spots on Rainy Lake. Traveling across the surface so closely connected to the water allows you to quickly identify the areas with the largest fish populations — you might even catch a glimpse of the fish below your feet!
To get the most out of your experience, look for specially-designed angling paddleboards that feature safety mounts to keep fishing tackle onboard.
Yoga
Far from any studio, the tranquil waters at Voyageurs National Park offer a pristine natural setting for yoga on a paddleboard. When Rainy Lake's waters become placid, visitors often shift their focus inward — the peace and quiet amplify their self-awareness.
Not only is the setting gorgeous, but moving through a yoga routine while paddle boarding improves balance and works new muscle groups. Rainy Lake's peaceful waters and natural surroundings are ideal conditions for transformative yoga sessions on the water. Combining relaxation with exercise, it's no wonder that paddle board yoga is one of the most popular paddle boarding activities in Minnesota.
Racing
With our beautiful, big lakes Minnesota's stand up paddle boarding scene is perfect for racing. Voyageurs National Park has plenty of space for paddleboard races at every skill level.
Challenging your friends to a paddle boarding race tourney? Our houseboats are large enough to hold multiple racing paddleboards, which are longer than their all-purpose counterparts. Look for a quiet bay on Rainy Lake if you're looking to gain speed with reduced waves.
Plan Your Minnesota Paddle Boarding Vacation
Now that you know what you can do on a paddle board, you'll find a paddle boarding experience for everyone in your group. We're sure that you'll find our houseboats are the ideal floating "home base" for the classic Minnesota lake stand up paddle boarding escape you've been dreaming of. Start planning your houseboating trip at Voyageurs National Park today and get the adventure of a SUP camping trip, without sacrificing the comforts of home.
Compare all of the houseboats in our fleet and pick one that suits your needs. Once you've found the right boat, reach out to our team to schedule a vacation you're sure to remember for many years to come.
Recommended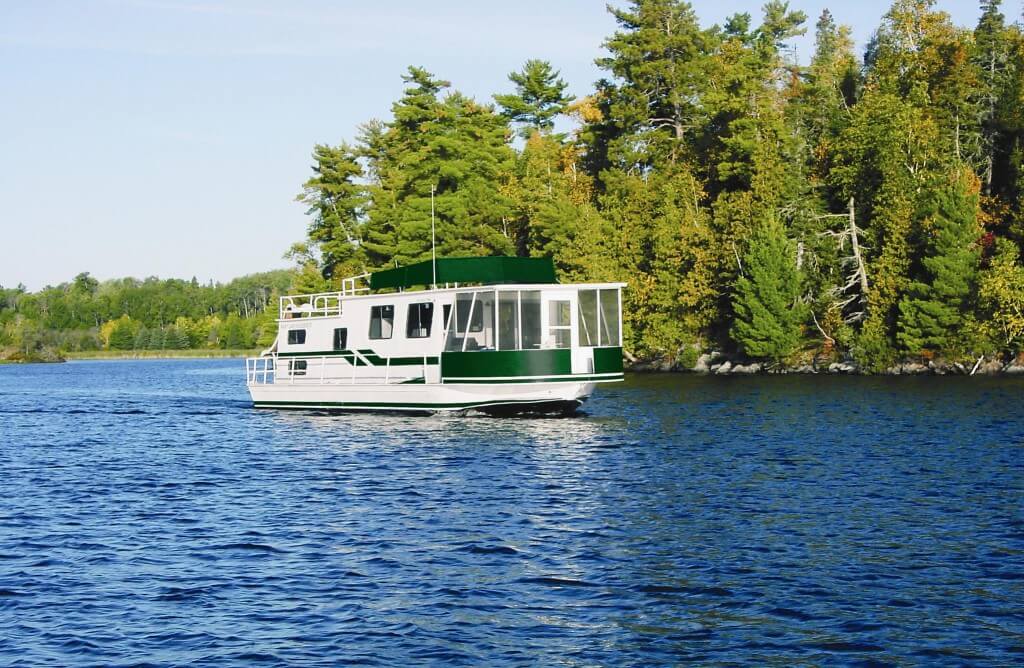 Saginaw Series
Size: 50'
Capacity: 6-10 People
Pricing & Availability