Rent The Honeymooner
We host many honeymoons every year, so it only seemed appropriate to name this vessel the Honeymooner. This vessel is the perfect houseboat for two people.
Ideal for a private escape, the Honeymooner houseboat rental provides everything you'll need for a relaxing vacation in Voyageurs National Park.
2023 Houseboat Vacancies:
May 20 – May 25

June 19 – June 24

September 4 – September 7

September 22 – September 30
We may upgrade you to Minnitaki. For the quickest reservation please call 800-554-9188 between 7:00 AM and 7:00 PM or click book now above for online reservations!  
*The Honeymooner does not include a waterslide
3 Day Minimum
Minimum 2 Person Party.
One $500 deposit due at time of reservation.
Second $500 deposit due 30 days prior to boarding date.
*Deposits are refundable 60 days prior to boarding date.

Size: 37'
Sleeps: 2 People

Honeymooner Pricing
Learn More about Amenities
Houseboat Layout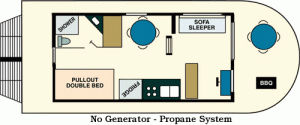 View Larger