Cathie planned a family fall houseboat trip, our son and daughter Joe and Rachel, cousin Jenny Herman, her husband Dan Herman and daughter Mattie, and I would all be boat mates for the next three and a half days. We left Thursday afternoon at about 12:30 with a gorgeous forecast. We set our destination for Fishnet Point a 29-mile cruise to the eastern end of Rainy Lake near Kettle Falls.
The voyage up was beautiful, fall colors were close to the peak but not quite. There was barely a ripple on the water. The flying bridge on the Lady of the Lake was a perfect place to pilot the boat from. The views from up top of the houseboat were spectacular.
Dan and Jenny and I tried our hand at fishing for an hour before dinner. Jenny was hot! Plenty of walleye for a coming shore lunch. With the cool water, the walleyes will be flopping fresh after a night in my live well. I awoke early the next morning actually had a nature alarm clock wake me up. The windows were open in the bedroom allowing us to enjoy the crisp fresh air. In the pre-dawn darkness, an owl perched itself on a branch of a towering white pine right beside our Lady. He or she hooted several times then moved to another pine and hooted some more. Next up was a family of otters chattering, looking for breakfast. Otters are notorious for raiding the floating minnow buckets tied to the houseboat or fishing boats. They are amazing, when otters find a bucket with minnows they clean out every single minnow! Our buckets were nestled in the live well along with the walleyes caught the evening before. The otters let us know they were not happy chattering nonstop as if to say "where are the minnows?" Our mooring site was in close proximity to two different marshes that my brothers and I used to hunt for ducks many years ago before the establishment of Voyageurs National Park. The marsh was waking up; it is one of those special moments that many people never get to experience. You could hear the Canada geese honking away, next you could hear them lifting out of the marsh, honking steadily as they made their way toward the houseboat and on to their next stop.
Dawn was glorious, I had the opportunity to take pictures for a good half hour with premium light, great coffee and our two black Labradors Reilly and Puck. Rainy Lake is one of the gorgeous places on earth, you never get tired of taking pictures in such a photographic paradise. It was amazing; my day was made by 7:30 in the morning and my crew had not yet risen. Time to get the coffee on!
We opted for another fishing excursion with a mid-morning brunch to follow. Once again another day of heaven with the great fall weather. We caught walleyes and really nice northern pike. Joe was after smallmouth bass and caught some dandy's. Dan made awesome biscuits and gravy for our morning brunch. During the afternoon we journeyed up the Kettle River to fish the current in the river and the falls where Namakan Lake enters Rainy Lake.
Many years ago I attended the annual closing party at the Kettle Falls Hotel. It was fitting as I was guiding duck hunters on the north side of the lake. Al Didier was my first long time client (1965). It was windy and rough that night. We made it about 11:00 PM. This was the last closing party at the old Kettle Falls Hotel. A very emotional time for myself. The hotel was completely restored and rebuilt by the National Park Service. I had not been back for a closing party since. The 2014 party was happening while we were on the houseboat trip. We went and had a great time, saw many old friends from years gone past. I have fond memories from my early days at Kettle Falls. I spent every summer from 1965- 1975 guiding at my grandparents' hotel. I continued to guide on weekends and days off through 1984.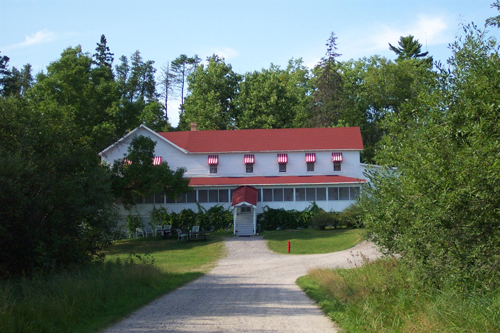 Kettle Falls Hotel
NPS
The history of Kettle Falls is as colorful as the red roof on the hotel. Constructed by timber cruiser Ed Rose and reputedly financed by Madame Nellie Bly, the Kettle Falls Hotel has accommodated and entertained travelers since 1913. Robert Williams bought the hotel in 1918 for $1,000 and four barrels of whiskey. From its somewhat scandalous past, grew a long tradition of hearty home cooking and hospitality served by the Williams family. This historic hotel was renovated by the National Park Service in 1987 so you, too, can enjoy a hearty meal, relax on the veranda, or spend the night.
It was time to go back to the Lady of the Lake for one of our favorite houseboat meals, beer can chicken. We had been eating pretty good, a great steak dinner, and fresh Rainy Lake walleye.
Sunday came quickly, time passed much too fast. Danny Herman made a great breakfast and before you knew it we were underway. Joey left in one of the fishing boats as he had a night shift at Polaris in Roseau MN. The ride in was great, the sky started to cloud a bit but the Bloody Mary's were awesome just like the company on the trip. No one likes the trip to end, we had to look up into the sky and say thank you, there will be another time!
Sooner rather than later.