Fabulous fishing in May and June is coming your way! Make sure you have a trip planned in May or June.  We have had two consecutive late ice outs in 2013 and 2014.   However, this year, most of the ice is out already on Rainy Lake, just some main lake ice pack moving around.  No need to worry about the ice – it is gone.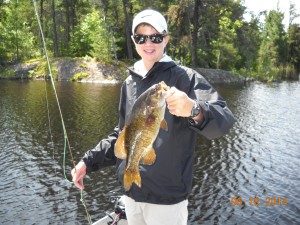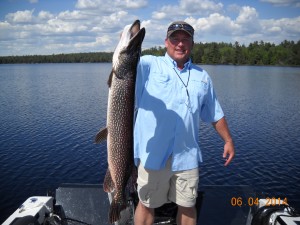 There's still time to reserve your dates.  You can expect aggressive walleye fishing from the opener on through June. Plastics, jerk baits, slip-bobbers, traditional live bait presentations like a jig and minnow and Lindy or Roach Rigs should all be in your arsenal. Guess what? That arsenal is no good if you are sitting at home!
Smallmouth bass will be active the moment you arrive.  Casting jerk baits, tossing tube jigs, slow rolling plastic tails and twitching flukes will provide many memories for you. The smallies love to congregate on the points in the bays in close proximity to spawning habitat.
If you haven't caught a 40″ pike yet, this May and June will give you the best opportunity you have ever had.  Find them on points, in black bottom bays with last years dead reeds dotting the surface. Glide Raps, single buzz baits, Johnson Silver Minnows and Phantoms with the plastic tails will all provide that heart attack moment when the big boy hits!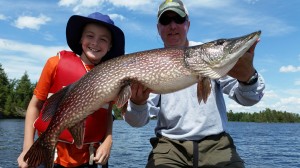 Expect an absolute crappie bonanza. It is April 20 and the bays have already been ice free for a week. The crappies will be thick  May 12 through Memorial Day. The population of big crappies has never been higher.  Bring the little kid in you out, there is nothing like catching a 14″ slab on a bobber and tube jig.
I know I sound excited and that's because I am.  Having the ice go out at a normal time is great but it is even better this year with it out a week or two earlier.
Give us a call  at 1-800-554-9188 and we'll help you book your Rainy Lake Houseboat for a memory making May or June trip.  
See you on the water!
Billy Dougherty